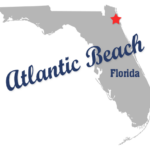 Atlantic Beach garage door repair isn't always easy to complete. Door issues can be tricky to diagnose and even trickier to fix, especially when it comes to issues like alignment, photo eyes, and transmitter batteries. Over the years it's undoubtable that your garage is going to need some type of repair but hardly anyone knows what to do when it happens. From standard battery replacements to dents in the garage door, these things can be hard to deal with when you haven't had to handle them before. However, a great garage door repair service is just the thing that can take care all of your garage door needs. Pesky dents and faulty opening systems will be a thing of the past with a garage door repair service like 911 Garage Door Services!
Garage door repair services might include something as basic as taking care of a dent to something as complicated as replacing photo eyes. While some homeowners may be tempted to do-it-yourself when it comes to their garage door repairs, it may be a better idea to leave these issues to the professionals. After all, a misaligned garage door or worn track wheels can occasionally be difficult to fix and even dangerous if you're not experienced. At 911 Garage Door Services, our technicians are experienced and skilled in everything when it comes to garage doors. You can skip the hassle and potential danger when you look to us for all of your garage door needs.
Operating a non-standard garage door? That's no problem! The technicians at this Atlantic Beach garage door repair service have worked with all three types of garage doors. Carriage doors, sliding barn doors and standard rollup doors are all pieces that our employees have had loads of experience in. Replacing panels, figuring out why a door won't close or open, jammed doors, and much more is as simple as can be when you look to this garage door repair company.
These days, the importance of a working garage isn't negligible. Garages can protect against the elements and in the Florida area, this can mean extending the life of your car. Having a working garage will allow you to shelter your car from harsh hurricanes and fierce hailstorms, making this storage unit one of the most vital. A working garage door is the key to keeping both your car and any other stowed-away materials safe, so make sure you have 911 Garage Door services on speed dial for those occasions where the door breaks on short notice.
Atlantic Beach Garage Door Repair
Call us today to get your garage door running like new. In just a few hours, 911 Garage Door Services can fix your door with the help of a trained, skilled technician. Say goodbye to tearing your hair out over garage issues because this repair service is just about the best company in the Atlantic Beach area. Contact us today and we'll help you set up an appointment with a technician.