Garage Door Track Repair
Garage door tracks house the rollers, and are responsible for keeping the door aligned and lifting it vertically and then horizontally into your garage ceiling. When the door is off the track, or if the track becomes bent or damaged due to impact or corrosion, it makes it impossible to open and close your garage door. If you're stuck inside your garage, or unable to close it, this is usually considered an emergency or same-day repair. 911 Garage Door Repair is standing by ready to get your garage door back on track, fast!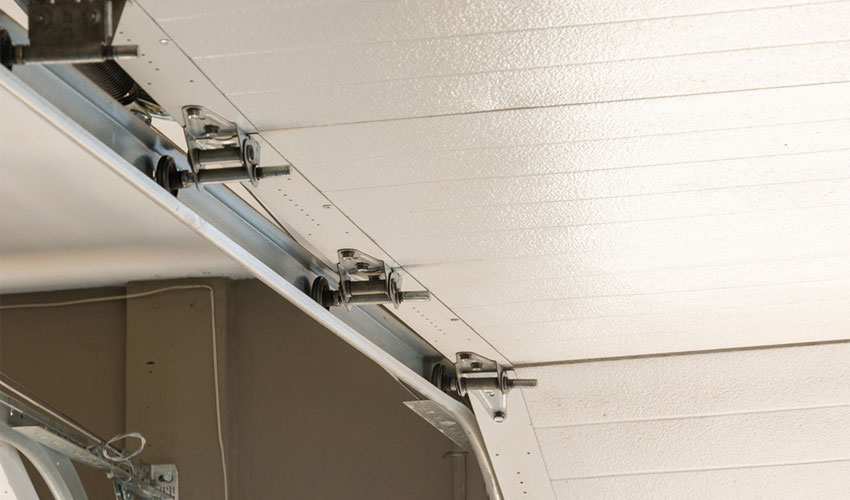 We repair and replace all types of garage door track systems:Standard Lift – Typical in most residential garage door systems, standard lift tracks consist of a vertical track along the sides of the door, a curved track, and a horizontal track along the ceiling.
Vertical Lift – Typical in commercial and industrial garage door systems, vertical lift tracks have a higher vertical track that goes above the door and is pitched away from the wall to allow for spring installation above the door. 
High Lift – Used in both commercial and residential applications, but becoming more popular as conversion kits in home garages, high lift tracks allows you to increase the vertical lift of your tracks. This brings the door closer to the ceiling when in the horizontal (open) position, allowing you to park larger cars in the garage. 
If your track breaks and you're stuck in your garage, call 911 Garage Door Repair at 954-420-7868 day or night for emergency repair service.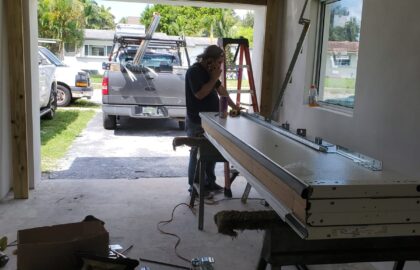 Why Choose 911 Garage Door Repair
We know you have many garage door track repair companies to choose from. When you partner with 911 Garage Door Repair, you get:
Locally owned and operated

Fast, affordable service on your schedule

Background-checked, licensed and insured technicians

Friendly, dependable service from start to finish

Competitive pricing and free quotes

100% satisfaction guarantee
When you call us for service, we will ask you to describe what you see in your garage. It is easy to determine what type of lift track system you have in your garage based on what you see. 
In most cases, your technician will be able to realign the door and get it back on the tracks. If the issue is due to a damaged or bent track, it may be necessary to order the track and come back for replacement.
In between your annual tuneup and maintenance, regularly check the tracks for debris and clear it. If you see rust or hear squeaking, you can lubricate the tracks and rollers. Avoid physically damaging the tracks by not backing a car into them or hitting them with sports equipment.