Garage Door Installation
911 Garage Door Repair is proud to offer new garage door installation and replacement to homeowners and businesses throughout Broward, Miami-Dade, and Jacksonville. We work with top manufacturers of garage doors to bring you the highest-quality doors at every price point. Whether your door has been damaged, you are replacing your door with a hurricane door, or you just want to boost curb appeal, our experienced technicians can recommend the best doors for your home or business. 
We offer installation of all types of garage doors, including:Residential:
Sectional garage doors

Raised-panel garage doors

Contemporary glass and metal garage doors

Wooden garage doors

Vinyl, fiberglass, and steel garage doors

Carriage house garage doors

Hurricane and wind-rate garage doors
Commercial:
Sectional garage doors

Aluminum garage doors

Glass garage doors

Insulated and uninsulated steel garage doors

Rolling garage doors

High-speed garage doors

Fire and wind-rated garage doors

Security grilles

Counter doors and shutters

Fabric roll-up doors

Loading dock doors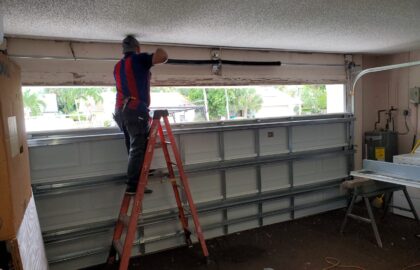 Why Choose 911 Garage Door Repair
We know you have many garage door installation companies to choose from. When you partner with 911 Garage Door Repair, you get:
Locally owned and operated

Fast, affordable service on your schedule

Background-checked, licensed and insured technicians

Friendly, dependable service from start to finish

Competitive pricing and free quotes

100% satisfaction guarantee
The first step in a new installation is to schedule a free onsite consultation with one of our technicians and order your door if it is not in stock locally. If we are replacing an existing door, expect installation to take around 3-4 hours. For brand new installations and installations that require a new garage door opener installed, expect 4-6 hours or longer. For large commercial jobs where we are installing multiple doors, we will give you a timeline of 1-5 business days. 
It is preferred, yes. Our technicians may need to access your home's breaker panel or may need your input if they run into an unexpected issue during installation. Most importantly, we want to be able to show you how to operate the door and program remotes and keypads.
Also called wind-rated, wind load, or impact garage doors, these durable doors are reinforced and made to withstand Florida's strong winds and hurricanes. If you are replacing an old garage door, we do recommend exploring hurricane doors to protect your home. Contrary to popular belief, wind-rated doors are not significantly more expensive than traditional garage doors, and they come in a variety of materials and styles to match your home's design.