Need Jacksonville Beach garage door repair in a hurry? When your garage door breaks, it doesn't have to be an anxiety-filled, rushed repair that results from last minute decisions. Instead, you can have a reliable garage door repair service on
-file for those events where it seems to be necessary. No matter what type of garage repair service you might find yourself needing, Jacksonville's very own 911 Garage Services can help you with anything you might need. From malfunctioning pieces to misaligned doors, 911 Garage Doors has the experience, the skill, and the ability to get your garage door running just like new.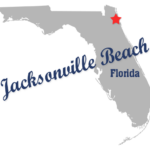 There are three types of garage doors, the most popular of which is the standard roll-up garage door. While most homeowners have to do some regular maintenance on these doors, like cleaning the photo eyes or changing the batteries, there are more uncommon problems that may require a technician to handle. Broken springs, awkward spring tension, or even alignment issues can plague even the most careful of homeowners. However, a good garage door technician can handle just about any of these issues and more. It's all a matter of picking a repair service that can handle your individual needs.
While not as common, sliding barn doors and carriage doors may also come with their own issues. These doors, sometimes chosen for their distinctive look or just to keep the ceiling clear, often suffer from worn track wheels and other types of issues. Homeowners with these types of garage doors may even find themselves needing reinstallation after a few years of use. The reason for this is that sliding barn door tracks and springs can wear down after years of traffic, meaning that the alignment will later need to be readjusted to accommodate for the wear and tear. As with rollup doors, garage door technicians that are experienced in these fields will know just what the problem is after a little trial-and-error. For any of these garage door types, 911 Garage Doors is your number one option.
For less technical issues, 911 Garage Doors can also help with any dents, dings, or other types of damage your door might be suffering. Whether your door had an accidental encounter with a car or tree, 911 Garage Doors can get those garage doors looking as good as new. At 911 Garage Doors, we know how important your home's value is, so we make sure that your repair service is carried out as quickly, efficiently, and skillfully as possible. With us, you'll never have to worry about a garage door issue again. After all, we're just a phone call away and the whole process is as easy as can be.
Jacksonville Beach Garage Door Repair
Jacksonville has never seen quality like this before. No Jacksonville Beach garage door repair service rivals that of 911 Garage Doors and once you spend a day with us, you'll know why so many people have picked us for all of their garage door needs. After you place that first phone call to our office, make sure you save our number for any of those situations where you need your garage door fixed in a flash. We promise that you'll never be disappointed while you're in our hands. Call us today to find out how you can get your garage door fixed today!